Daxner & Merl ist spezialisiert auf nachhaltiges Bauen.
Nachhaltiges Bauen
Integrale Planung
Gebäude-Ökobilanzen
Lebenszykluskosten (LCC)
Umweltproduktdeklarationen (EPD)
Maßgeschneiderte Lösungen
Daxner & Merl bieten modulare Beratungsleistungen für Entwickler und Architekten sowie integrale Planungsleistungen für die Gebäudezertifizierung.
Mit langjähriger Erfahrung im nachhaltigen Bauen betreuen wir eine breite Palette von großen Bauprojekten und bieten maßgeschneiderte Lösungen für Ihre individuellen Anforderungen. Wir unterstützen Sie dabei einen passenden Ansatz für Ihr nachhaltiges Bauvorhaben zu finden.
Nachhaltiges Bauen basiert auf einem lebenszyklusbezogenen Denkansatz, welcher von der Projektentwicklung bis zum Rückbau geht. Hochqualitative Gebäude sind das Ergebnis eines integralen Planungsprozess in dem ökonomische, ökologische sowie soziale Aspekte berücksichtigt werden.
---
CASE STUDY

The Austrian retail chain SPAR counts on sustainability when it comes to supermarket design.
Every new-built SPAR supermarket meets the sustainability criteria of the DGNB certificate. With the help of serial certification – Serienzertifizierung – SPAR represents a pioneer when it comes to sustainability. Certification in series helps to achieve sustainability standards with very efficient project management while reaching sustainability criteria in all dimensions.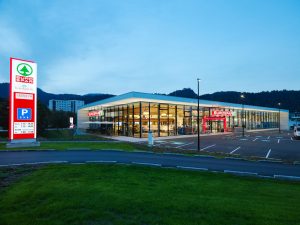 Bild: Paul Ott
Selected flagship-stores – Klimaschutz-Supermärkte  – are even further optimised with regard to sustainability criteria. These pioneer supermarkets meet the highest requirements and are thus awarded the DGNB platinum certification.
Daxner & Merl supports SPAR with both, serial certification of newly built stores as well as certification of flagship stores for climate protection.